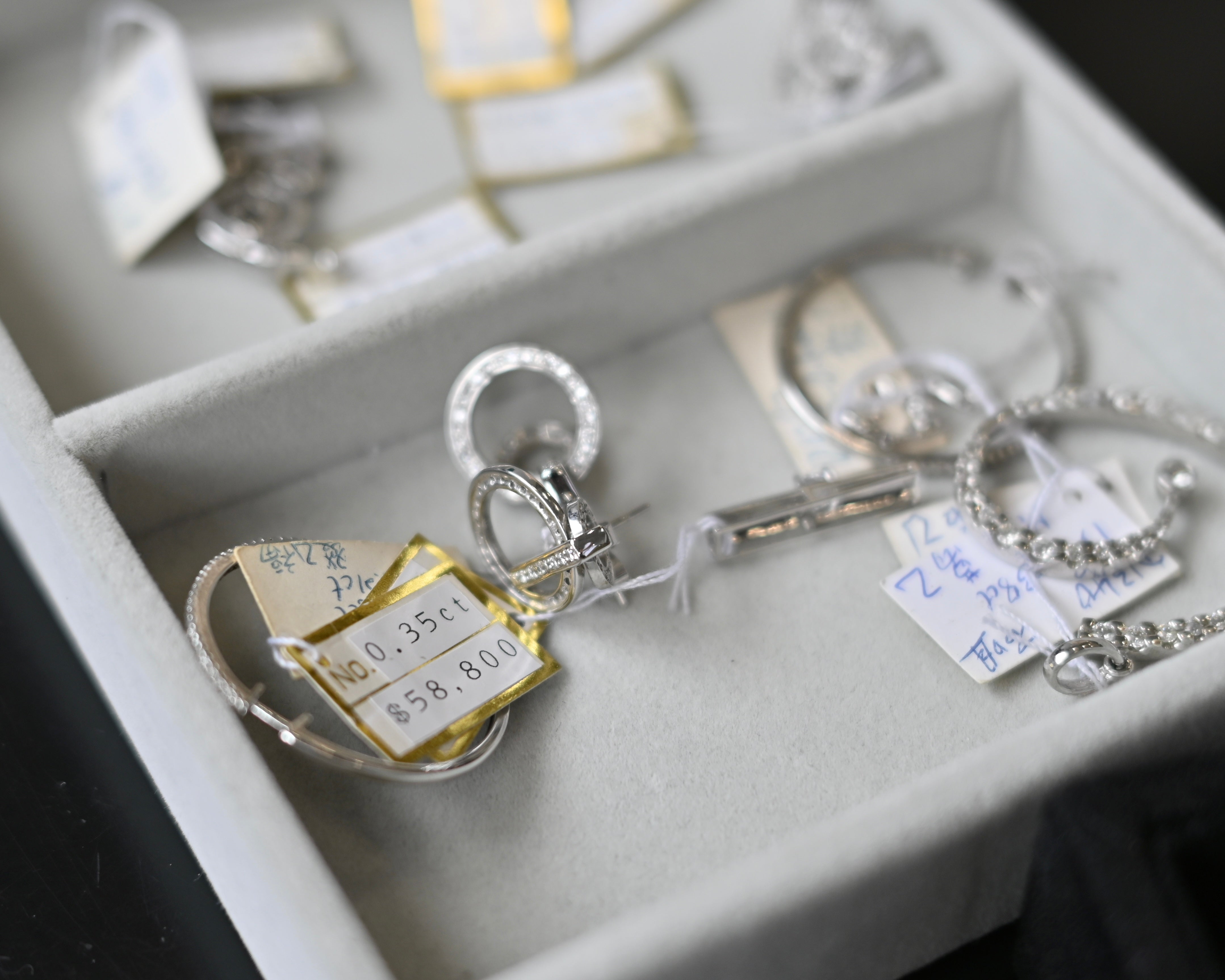 Reinventing Beauty, Redefining Ethics
Reimagined Gems
Recreating old jewellery hand-picked from pawnshop with a modern twist. Our designs are perfect for everyday wear, unique yet simple. A piece reminisces good days and gives you good vibes.

Code of reinventions and redefinitions
MAAZI 碼子
Maazi, an ancient numeral system widely used by pawnbrokers in Hong Kong, is THE code to reveal these treasures and stories behind.
A coding system that consists of reinventions and nostalgia.
Our vision is to bring joy and surprises through an unexpected curation of sustainable jewelleries that you can wear everyday.



Pawnshop
one of Hong Kong's oldest businesses, housed thousands of hidden treasures, waiting to be resurfaced.

At Maazi Jewellery, we want to promote pawnshops in a different way - a sustainable jewellery business with a unique curations of pre-owned and repurposed jewellery, sourced through pawnshops.

'Pawnshops are some of the oldest businesses in Hong Kong, dating back more than 200 years. Surely, that has been a huge impact on Hong Kong's developments, both economically and culturally. In modern days, how can we continue telling the story? I believe sustainability is the key to the future of pawnshops."
- John Leung, Founder and Creative Director
Hong Kong
Originally a sparsely populated area of farming and fishing villages, the territory is now one of the world's most significant financial centres and commercial ports.

Hong Kong is characterised as a hybrid of East and West. Traditional Chinese values emphasising family and education blend with Western ideals.

Inspired by the vibrant spirit of modern Hong Kong, these essential adornments blend timeless elegance with a touch of urban flair. Imbued with stories of resilience and reinvention, these revived treasures showcase the harmonious union of sustainability and style.

Photo by Manson Yim on Unsplash
Design Ethos
Our journey began with the mission to breathe new life into forgotten jewellery found in pawnshops. Thousands of preowned pieces were patiently waiting for their chance to shine once again.

Through our meticulous design process, we reimagine these gemstones in a contemporary style, aiming to share our authentic narrative and forge a deeper connection with those who wear our creations.

Founded in 2022, we are unwavering in our commitment to produce jewellery in a more sustainable manner, inspiring the world to reconsider and redefine the concept of luxury jewellery.
Reinvention // Resurfacing

Reinvent

Resurface




Our Founder
John Leung, has a profound feeling towards pawnshops. His great grandfather was in the industry for over 40 years.
After graduated at London College Of Fashion, he has worked as accessories buyer at Lane Crawford, one of the top fashion department stores worldwide.
With his passion in fashion, he is determined to promote heritage of Hong Kong through creative reinventions. In particular, the part that his late grandfather was in.


Childhood Treasure @Elixir

Now or Never @In Times Studio